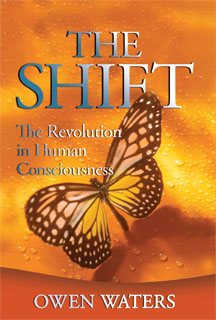 The Shift
The Revolution
in Human Consciousness
(Updated 2016)
by Owen Waters
"The Shift is the spiritual and creative
awakening of humanity"
This transformative movement has gained momentum in recent years to the point where, today, more than one in three adults have moved forward towards this new stage of cultural awareness.

New Reality consciousness means to experience new vistas of awareness and new levels of creativity. It means following your heart to express your inner joy through making your own meaningful contribution towards the betterment of the world.

Millions of pioneering trail-blazers have already made it through The Shift and into the new awareness. Every day, more people follow their example and discover a deeper, more meaningful quality to life.

In The Shift: The Revolution in Human Consciousness, Owen Waters has woven together leading-edge cultural studies with his own discoveries about the human energy system in order to demonstrate that we are in the midst of the biggest cultural shift of all times.

This book demonstrates that the future of humankind is not just bright… it is brilliant!

The Shift to the New Reality is real.
It is happening today.
It is unstoppable.
Download your personal copy of The Shift: The Revolution in Human Consciousness (Updated Edition) now!

Format: PDF e-book, printable. View on any computer, tablet or smartphone.
Regular price for immediate download: US $19.99
Special sale price - just $9.99! (Save 50%)
For the PDF, click "Buy Now" for the option to Pay with a Paypal account or
select the "Checkout as Guest" option to use a debit or credit card.

HELP INFO: If you need help after clicking Buy Now, come back and read this.
Other currencies are converted into US$ - be sure to select the Country scroll-down box.
Card payments are processed through Paypal (Paypal account not required). Your card information is guaranteed secure and protected through their ultra-secure privacy system.
If you have used your email address to open a Paypal account before, they will ask you to log in.
If you have used that credit or debit card in a Paypal account before, they will ask you to
log in using the email address that you used at that time.
Forgotten Paypal password or email? Start by clicking their "Forgot email?" link.
PDF reader: Most devices automatically support PDF e-book files.
If you have an older device, you can install the free Adobe Acrobat Reader app.