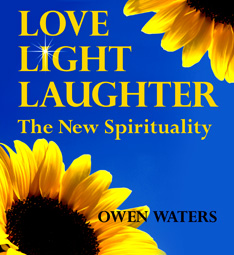 Love, Light, Laughter
The New Spirituality
by Owen Waters
Love, Light, Laughter: The New Spirituality goes far beyond basic spiritual awakening. While my first book The Shift showed you where we've been and where we are, this new book reveals where we are going as The Shift opens up our spiritual potential.

It reveals exactly what developments to expect beyond the stage where you first step into the spiritual stages of consciousness. While heart-centered consciousness is the doorway to spirituality, it is becoming apparent to millions of people today that there is much more to be found and experienced beyond this first stage.

Once people allow the unconditional love that will naturally fill their hearts, they go on to find the light that streams continually outwards from their very souls - filling their beings with inspiration. Within the light, they discover the laughter - the joy of spiritual contact which offers happiness regardless of any external circumstances.

The hallmarks of the New Spirituality are love, light, and laughter. They are the stages of spiritual consciousness which will form the basis of the building of a New Reality. They are the seeds of a greater awareness, a greater love, and a greater understanding for all of the people upon the Earth. The world is changing. Discover exactly where the great change called The Shift will lead by reading this vital and timely book.

Download your personal copy of Love, Light, Laughter and set your spirit free!
Option 1: Kindle e-book from Amazon.com USA. US$7.99 or your equivalent at Amazon UK, Amazon Canada, Amazon Australia.

Option 2: Downloadable PDF e-book, printable. View on any computer, tablet or smartphone. US$7.99 or your equivalent.
For the PDF, click "Buy Now" for Guest Checkout or
the option to choose "Paypal account."
HELP INFO: If you need help after clicking Buy Now, come back and read this.
Other currencies are converted into US$ - be sure to select the Country scroll-down box.
Card payments are processed through Paypal (Paypal account not required). Your card information is guaranteed secure and protected through their ultra-secure privacy system.
If you have used your email address to open a Paypal account before, they will ask you to log in.
If you have used that credit or debit card in a Paypal account before, they will ask you to
log in using the email address that you used at that time.
Forgotten Paypal password? Click "Having trouble logging in" below the "Log In" button.