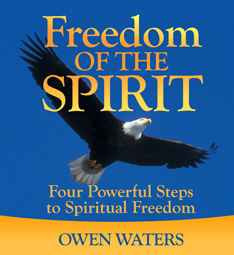 Freedom of
the Spirit
Four Powerful Steps to Spiritual Freedom
by Owen Waters
Discover new vistas of inspiration, love and abundance.
Discover the ideal solution to every challenge that appears in your life.
Discover how to fill your life with true spiritual meaning.

The gateway to spiritual consciousness is found within heart-centered consciousness. Spiritually-minded people today are transforming the world from material consciousness into the spiritual realms of heart and soul consciousness.

Freedom of the spirit can be attained in four powerful, yet simple, steps. The FREEdom technique frees your spirit to soar to new heights of spiritual awareness. It achieves this by combining today's most proven and time-tested spiritual practices into one powerful and effective package.

With the FREEdom technique, your heart becomes filled with love, your being becomes filled with light, and your spirit becomes free to grow and manifest your full potential for joy in every part of your life. It brings you a powerful yet balanced way to gain a profound spiritual experience of the presence of the universal mind of God.

Download your personal copy of Freedom of the Spirit and set your spirit free!
Format: PDF e-book, printable. View on any computer, tablet or smartphone.
Regular price for immediate download: US $19.95
Special sale price - just $9.99! (Save 50%)
Click "Buy Now" for the option to Pay with a Paypal account or
select the "Checkout as Guest" option to use a debit or credit card.

HELP INFO: If you need help after clicking Buy Now, come back and read this.
Other currencies are converted into US$ - be sure to select the Country scroll-down box.
Card payments are processed through Paypal (Paypal account not required). Your card information is guaranteed secure and protected through their ultra-secure privacy system.
If you have used your email address to open a Paypal account before, they will ask you to log in.
If you have used that credit or debit card in a Paypal account before, they will ask you to
log in using the email address that you used at that time.
Forgotten Paypal password or email? Start by clicking their "Forgot email?" link.
PDF reader: Most devices automatically support PDF e-book files.
If you have an older device, you can install the free Adobe Acrobat Reader app.