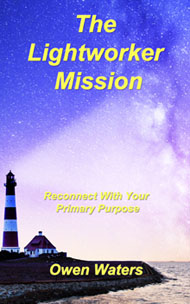 The Lightworker Mission
Reconnect With Your
Primary Purpose
by Owen Waters


This is the perfect time to be a conscious lightworker, to be one who becomes aware of their higher purpose. If you were unsure of how to best progress in this manner, let this book be your guide to discovering your own unique potential in your contribution to today's exciting journey of human transformation.

In this book, you will discover:

• How to best contact the source of your highest joy
• The real reason you came to earth as a lightworker
• How to enhance the flow of your inner knowingness
• How to recharge your entire being with vital life energy
• The true nature of the higher aspect of your consciousness
• Three powerful steps to greater enlightenment
• and much more…
Available as either:

(1) An Amazon Kindle e-book (available in English only) via these links - Amazon.com USA or Amazon sites in Canada, Australia, UK, Brazil, France, Germany, India, Japan, Mexico, Netherlands, Spain, or

(2) As a pdf download - printable, view on any computer, tablet or smartphone. Download The Lightworker Mission and set your spirit free! Click the Buy Now button below for the pdf...
Introductory price - just US$7.99!
Click "Buy Now" for the pdf version then choose
"Paypal account" or "Guest Checkout".
HELP INFO: If you need help after clicking Buy Now, come back and read this.
Other currencies are converted into US$ - be sure to select the Country scroll-down box.
Card payments are processed through Paypal (Paypal account not required). Your card information is guaranteed secure and protected through their ultra-secure privacy system.
If you have used your email address to open a Paypal account before, they will ask you to log in.
If you have used that credit or debit card in a Paypal account before, they will ask you to
log in using the email address that you used at that time.
Forgotten Paypal password? Click "Having trouble logging in" below the "Log In" button.